Hygiene
Hygiene is one of the key aspects of Uitkyk. To be named the best in the country regarding hygiene; it speaks for itself that we, at Uitkyk regard the neatness of our butchery and the hygiene regarding products as top priority
Quality
Nothing but the best is our motto concerning quality. Clients of Uitkyk can be assured that they get what they deserve…. The Best. Only A-grade meat is sold and used in our butchery as well as our take-away. If you are looking for only the best then you've come to the right place.
Service
Uitkyk realize that they wouldn't have achieved what they have if it weren't for their loyal clients. Professional and excellent service is just one way of rewarding our clients. Our highly trained personnel will assure that you, our client, will leave with a memorable experience and that once you tasted our hospitality you will always come back for more.
Value for money
It is guaranteed that the value of every ounce of meat that is sold by Uitkyk would outweigh the price by a huge margin.
Variety
Having everything under one roof is what makes Uitkyk such a convenient place. Not only do we offer the largest variety of meat, but the way in which we offer them to the public is one of the key aspects of our success. Uitkyk is synonymous with meat but that is not all we have to offer. Other services and products we offer involves: Packaging material, catering accessories, florist supplies and a fast fo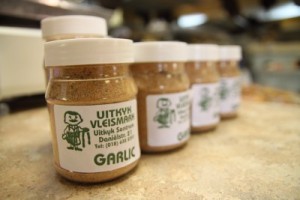 od take-away.